The Best Split Air Conditioners in 2023
Did you know that split air conditioners are the most popular type of AC unit out there? The global demand for these units is roughly 84 million per year. So if you're interested in finding the best air conditioner in UAE, you might want to consider one of these air conditioners. There are tons of fantastic split AC units that you can check out. 
Let's look at not only the best AC in UAE but the best in Dubai. Here's a guide to finding the best split AC unit in the United Arab Emirates! 
List of the best-split AC in 2023 to choose from
From energy-efficient models to high-end options, we have collected a list of top-notch ACs to suit any budget. See our split air conditioner selection today and decide which ac brand to choose for cool, comfortable temperatures in your home or office.
Which Split AC is best for my home?
Every home is different, and so are the needs of every homeowner. That's why when it comes to choosing an air conditioning unit, there isn't a "one size fits all" solution. Instead, many factors determine which air conditioning unit suits your home. The type of housing, the positioning of the unit, and the size and layout of your home are all things you need to consider when finding the perfect air conditioning unit. Thankfully, several different types of air conditioners are available on the market today. Let's take a look at some of your options:
What are the best air conditioning brands in Dubai?
There are many options if you're looking for a split A/C brand to install in your home, office, or industrial space. But not all of these brands are equally reliable. Some will save money on energy bills, while others may break down sooner than expected.
Users must make informed decisions when choosing the right air conditioner for their space and needs. This article lists the top air conditioning brands in the UAE regarding quality, reliability, service support, and after-sales maintenance.
The Most Selling Decorative Split Air Conditioning Brand in the UAE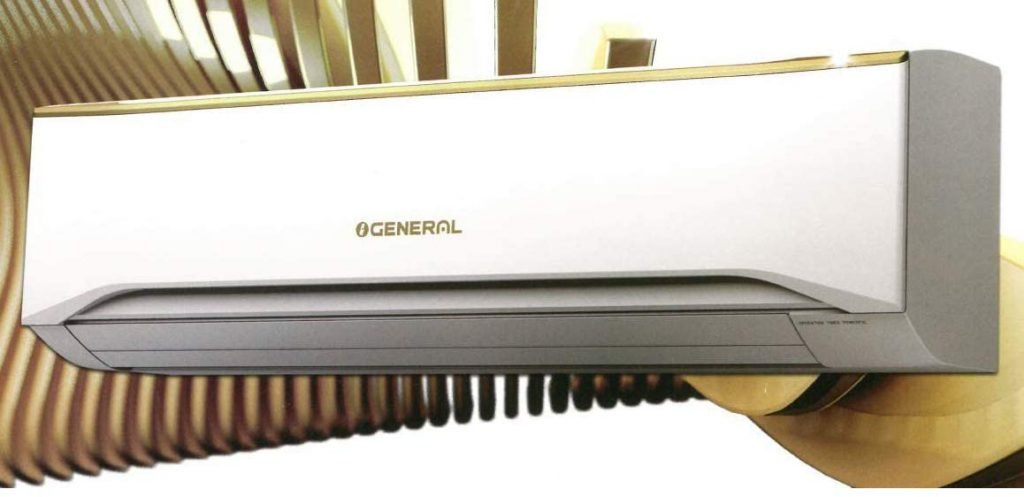 O'General is one of the top 10 air conditioning brands in UAE, and for a good reason. This air conditioner has superior cooling made possible by its double-complex swing action. 
The position of the flaps adjusts to match the machine's operating mode. That means the system automatically adjusts itself to provide the maximum amount of cool air in the home. 
What's more, O'General's split AC unit has excellent build quality. The machine has a nice finish on the edges and contains good quality components such as ABS plastic and Sturdier fins.
In terms of looks, this AC unit falls short a little bit. The looks are simple but not as sleek and modern as air conditioners from other popular brands such as LG or Samsung.
O'General's split air conditioners have fantastic power consumption, however. They have an EER rating of more than 10, which helps reduce the energy you'll use to keep your unit running.
O'General Split Air Conditioner Features
There are some fantastic features of the O'General split air conditioner. For one, the unit wholly and effectively removes moisture from the air. 
On top of that, the air conditioner has a double automatic swing and automatic flaps. This help keep your room as cool as possible.
You'll also enjoy auto shut flaps and automatic airflow adjustments. This help keep the air conditioner in tune with changes in the room's temperature so that the room doesn't get too cold or hot.
Another great feature is the auto restart. If your power cuts out, the air conditioner will start right back up as soon as the power comes back on.
You'll also love the sleep timer setting on this unit. This will maintain the correct room temperature at night so that you can get a good night's sleep.
Finally, O'General AC units have a negative ion deodorizing filter. This helps remove unpleasant smells, keeping your room clean and your environment comfortable.
O'General's CXTA-U SERIES | INVERTER COMPRESSOR​​ | 5-STAR RATING
The CXTA-U Series Inverter Compressor Air Conditioners by General are high-efficiency, energy-saving models that offer superior performance for cooling and heating needs. These units feature a variable speed compressor that allows for improved cooling control. Thanks to the inverter technology, the unit can efficiently adjust its speed according to your desired temperature level and save energy when it's not in use. Additionally, these air conditioners come with a host of other features such as sleep mode, self-diagnosis functions, dehumidification functions and more. The CXTA-U Series is an ideal choice for residential or commercial applications that require reliable air conditioning solutions.
Checkout list of O General Air Conditioners Dealer In the UAE
LG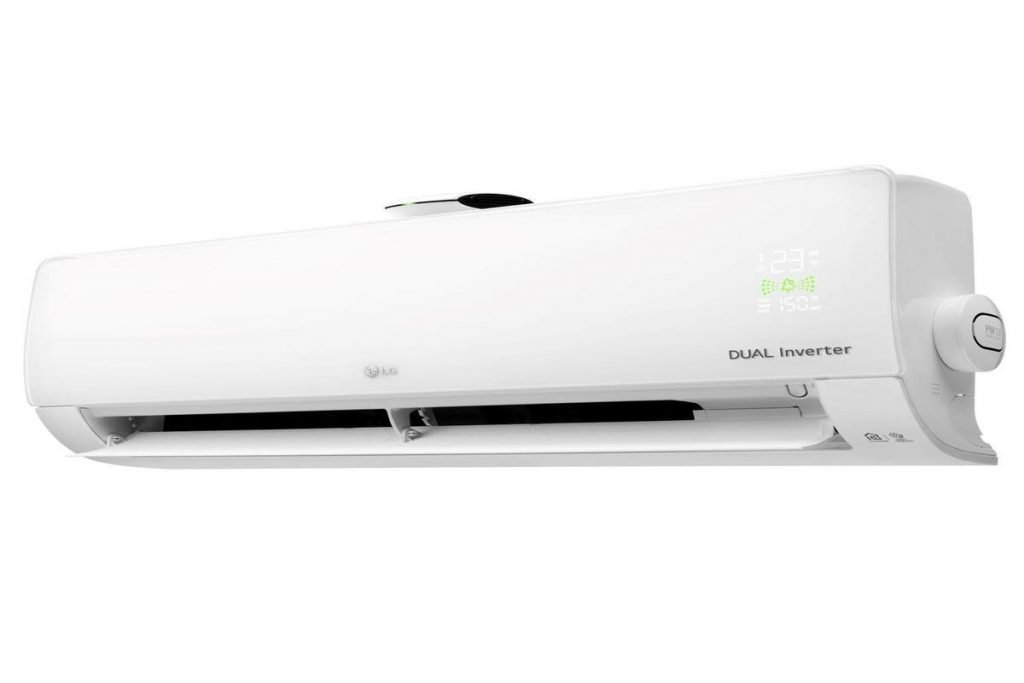 LG is a famous brand not only in the UAE but around the world. These air conditioners feature many innovative features that help keep your home at the ideal temperature. 
LG split AC systems feature a dual inverter compressor. This technology ensures the home's temperature doesn't fluctuate, maintaining the ideal temperature. 
On top of that, LG split air conditioners have active energy control so that you can track your total energy usage. This feature is on the LCD panel to adjust your energy levels and improve energy efficiency. 
Moreover, most split air conditioner models on LG devices include built-in WiFi access. That lets you control your AC unit from your smartphone! Plus, it allows you to diagnose and troubleshoot any problems.
There's quite a wide range of LG air conditioners out there, which is another reason so many people enjoy them. You can choose cooling capacities ranging from as low as 2.5kW up to 9.5kW. 
The brand also has excellent performance and features that set it apart from most other brands. So despite its slightly higher price tag, it's an excellent choice for anyone looking for a highly efficient AC. 
LG Air Conditioners Dealer In UAE
Super General
Another famous air conditioning brand in the UAE is Super General. This AC unit blends into the wall while still pumping cool air to keep your room comfortable. 
Super General's split AC units have a compressor and condenser unit that mounts outside the home while the inside unit blasts your home with cool air. 
The Super General split AC unit is an excellent choice for people who want to cool middle-sized rooms. In addition, they have a low noise rating when the AC is on low settings, making it a comfortable AC unit even in the bedroom. 
One of the most popular features of Super General's split AC units is the company's three-star energy rating. Individuals love this because it helps save them power while still cooling the home to perfection.
Many people also love that the AC unit blends right into the room. Its subtle appearance doesn't occupy much space or create an eyesore in the home. 
Super General Split Air Conditioner Features
Super General's split air conditioners come with several convenient features. For one, the unit has two different modes – turbo and sleep – that are convenient for different times of the day. The turbo option blasts your home with cool air, while the sleep mode is quiet and consistent for nighttime.
On top of that, these AC units feature an auto-restart functionality. This allows the AC to start right back up after a power cut.
What's more, the AC unit has an anti-bacterial filter. This keeps pollutants and allergens out of the home so that you can have pure and clean air.
Finally, these AC units are very low-maintenance. Homeowners can use the auto-clean feature to keep the system running efficiently. 
Midea

Midea is another great manufacturer of split AC units. This brand is famous for creating trustworthy air conditioning units that effectively cool the home and maintain your air quality.
Midea's split ac units are well-known for their efficiency and environmental friendliness. They're great units for those who want to cool the home without contributing to global climate change. 
Midea units come at a competitive price, making them more affordable than other name brands such as Mitsubishi or Panasonic. They're an excellent choice for anyone on a budget but still wanting a high-quality air conditioner.
What's excellent about Midea units is that they also offer heating options. Their split AC units serve a double purpose so you can cool your home and keep yourself warm on cold desert nights.
In terms of appearance, Midea units are relatively sleek. However, they're usually a little larger than most standard split AC units you'll find.
Finally, Midea split air conditioning units feature auto-cleaning systems. This helps reduce the maintenance you'll have to perform on them, as they keep their technology in good condition.
Gree

If you're looking for the best air conditioner in UAE, you might want to consider a Gree split AC system. Gree AC units have a design that allows you to cool down even the most significant rooms in the home. 
Moreover, they have a subtle color scheme and easily blend in with the home decor. That makes their appearance one of the more aesthetically pleasing of those on this list. 
You'll also love the 16 SEER rating of this unit and the 9.6 EER rating. Those ratings meant that your AC unit doesn't require a huge amount of power to cool your home to perfection. 
Another significant aspect of this AC unit is its universal WiFi technology. That way, you can operate your air conditioner as long as you have an internet connection. 
Lastly, the air conditioner's variable compressor maximizes the unit's performance.
Gree Split Air Conditioner Features
The Gree split air conditioner has a one-year warranty and a low noise level of 40 decibels. That makes it a great unit for use in bedrooms or nurseries. 
You'll also love that this unit has timers you can set. That way, you can manage how cool the home is at different times in the day.
The air conditioner also features sleep mode and auto restart. These features ensure that your home is always cooled to perfection.
Daikin

Daikin is a mid-range air conditioner brand, so you can find affordable cooling systems. However, their split AC units still do the job and keep your home cool on hot days.
Daikin offers a wide range of split AC units to choose one that makes the most sense for your home or business. You can choose larger units for bigger spaces or smaller systems for residential areas.
You'll also love the fact that Daikin air conditioners offer fantastic reliability. These air conditioners are highly durable and have great warranties to keep them in mint condition.
Daikin's AC units also feature good energy efficiency. You don't need to worry about wasting thousands of dollars on power consumption, as these units help keep your overall power usage to a minimum.
The biggest and best feature of Daikin's split AC units is the ComfortNet communication system. This system constantly monitors your air conditioner for any issues and immediately diagnoses and troubleshoots them so that you can keep your home at the ideal temperature.
Frequently Asked Questions
We're here for you if you've got a few questions to help you find the best-split air conditioner brand. Let's look at a few frequently asked questions about split AC units in the UAE.
Which AC Is Good in UAE?
Several different brands are great for AC in the UAE. O'General, Super General, Gree, LG, Daikin, and Midea are a few of the top air conditioning brands in the UAE.
Which Brand Is Best for Split AC?
Super General 18000 is considered the best split AC brand, especially in the United Arab Emirates. This consistent, reliable brand currently dominates the UAE's market share.
Which AC Is Used in Dubai?
There are tons of different AC units used in Dubai to help counteract the intense heat. In general, however, you'll find that residents use Super General AC units to cool their homes to the ideal temperature. 
Which Brand of AC is best in 2023?
In 2020 LG took the cake as one of the top air conditioner brands. They were popular not only in the UAE but worldwide as well.
Which Is the No. 1 AC in the World?
The top air conditioner in the world is Daikin. This company currently owns most of the market share for air conditioning unit sales.
Which AC Should I Buy in 2023?
In 2021, LG again emerged as one of the best air conditioning companies. They were well-known for their exceptional cooling properties and relatively affordable costs. 
Find the Best Split Air Conditioners Today
With this guide to the best-split air conditioners, you'll have no problem selecting a unit for your home. We've outlined everything you need to know to help you find the best AC unit in the UAE. 
If you found this guide helpful, check out our other guides and articles full of technical tips and tricks. Browse our articles to stay updated with UAE news, guides, and blogs.